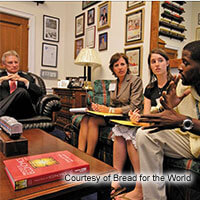 Project Information
Advocating to the nation's decision makers to end hunger.
Describe the need affecting community
Worldwide, 795 million people are chronically undernourished worldwide (FAO-SOFI, 2015), including 159 million children. The number of people in extreme poverty defined by the World Bank as those struggling to live on less than $1.25 a day totals 836 million. Women and young children are particularly vulnerable to hunger and malnutrition. Nearly half of the world's smallholder farmers are women, with higher rates in developing countries. That means in the rural areas of Asia, Africa, and Latin America, the majority of people engaging in subsistence farming to feed themselves and their families are women. Being a smallholder farmer often means living on the edge. Changes in the climate, a natural disaster, or even just the limits of what can be grown on a small plot of land can limit both the quantity and quality of the food a family eats. This can be devastating to a woman and her family. The respected British medical journal, The Lancet, reported in April 2014 that high rates of malnutrition underlie more than 45 percent of all deaths in children younger than 5 years and are a significant factor in maternal mortality. While the rate of death for children and mothers has rapidly dropped since 1990, efforts to make significant progress to address maternal and child health fell short of targets set through the global Millennium Development Goals (MDGs) which expired in 2015.
How will this Advance project help to address the need?
Bread for the World is a collective Christian voice urging our nation's decision makers to end hunger at home and abroad. By changing policies, programs, and conditions that allow hunger and poverty to persist, we provide help and opportunity far beyond the communities where we live. This project will support efforts of churches, including United Methodist Churches, in advocating for policies that will lead to an end of hunger and extreme poverty by 2030. It will support the development of resources for churches such as advocacy tools and educational materials on issues and the biblical basis for advocacy.
Describe the primary goal of the project
Our goal is to help change U.S. national priorities by 2017 and work with the new president and Congress to foster U.S. leadership putting the world on track toward ending hunger by 2030. Our objectives are to ground our work in God's love through prayer and faithful action; strengthen our collective Christian voice in every congressional district; and move a policy change agenda that makes a significant impact on the lives of hungry and poor people. Our measurable outcomes include, presidential initiatives focused on hunger and poverty; bipartisan leadership in Congress for legislation that addresses domestic and international hunger and poverty; robust funding for programs that reduce hunger and poverty; and U.S. leadership on the Sustainable Development Goals. Our advocacy work is ongoing, but is organized through annual campaigns and issue-specific priorities which support a multi-year strategic plan.
Contact Information
Global Ministries Contact