Unalaska United Methodist Church Outreach and Community Ministry
DONATE NOW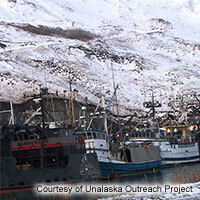 Project Information
Ministering to the Bering Sea fishing fleet, processors, stranded crew members, and the community
Describe the need affecting community
Every 2-5 years there is a near 80% turnover of the congregational makeup as people move in and out of the community. The congregation ebbs and flows throughout its history, as the island's population is ever changing. Partner churches help stabilize and make up for our limited membership in congregation. Unalaska United Methodist Church comes out of an old Methodist Mission in Unalaska that had it start in the late 1880's. With the help of donations from other United Methodist churches and individuals from all over the country, the late 1990's brought with it a parsonage and new church building. This new church was initially founded with the expectation of growing a new, mainline protestant congregation in a place that had no denominational presence. Within a few years of its inception, what became clear was that the church would not become a self-sustaining congregation because of the fluid nature of the island's population. There is great need for ministry to be done. It is a time demanding work community with people working anywhere between 60-80 hours a week. During fishing seasons, many people work 12+ hour shifts 7 days a week. Processing seasons continue to stretch into longer, all year-round operations. This puts strains on families and relationships, in homes, in schools and at work. The physical isolation of living on an island farther west than Hawaii, limited population, long winters, expense of travel and communications utilities often influences drug and alcohol abuse. Because of the size of the community, there is also a lack of full-time pastoral presence. UUMC has returned to a "circuit rider" model of Methodism where a guest pastor visits every 6-8 weeks as two members work toward becoming Certified Lay Ministers. We are also exploring hiring a Church & Community Worker.
How will this Advance project help to address the need?
1. Provide a pastoral presence in the community and to be available to all areas of the population for various concerns. Meeting needs in the community at large through direct, individual and congregational outreach programs. 2. Respond to the spiritual and temporal needs of the Unalaska Community, it's fishing crews and fish processing plant employees. Encourage growth of long term relationships with God and the Methodist Church. 3. Continue to stabilize the fluid community with structured worship services and studies. Acting within a diverse cultural, religious, and ethnic community as a representative of Christ and his Church.
Describe the primary goal of the project
Provide for community stability through sustained service and worship.
Describe the change you would like to see in the community as a result of this Advance project
We would like to see a sustained 10 percent increase in weekly service participation. We would like to see sustained 10 percent increase in participation in our 2nd blessings volunteer help.
Contact Information
Global Ministries Contact