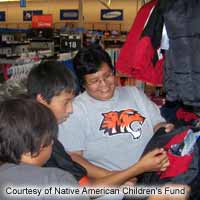 Project Information
Assisting approximately 250-300 school age children with school clothing and offering VBS supplies
Describe the need affecting community
A number of our churches are located in the area of the state where unemployment is very high therefore people living in those areas live on limited incomes. Because of limited income children may not be able to have even the necessities to attend school and being of limited income, churches in the area suffer as they rely on Sunday offerings to survive.
How will this Advance project help to address the need?
We will continue to offer this assistance, especially the clothing and graduation expense as long as we can so that our children won't feel left behind.
Describe the primary goal of the project
To be able to assist all our children and youth of families with limited income and our small membership churches. This assistance will help children and youth build their self esteem confidence and growth in the Lord as they will and are the church of today and tomorrow.
Describe the change you would like to see in the community as a result of this Advance project
More children assisted and more churches having VBS.
Contact Information
Global Ministries Contact