El Porvenir: Clean Water, Healthy Nicaraguans
DONATE NOW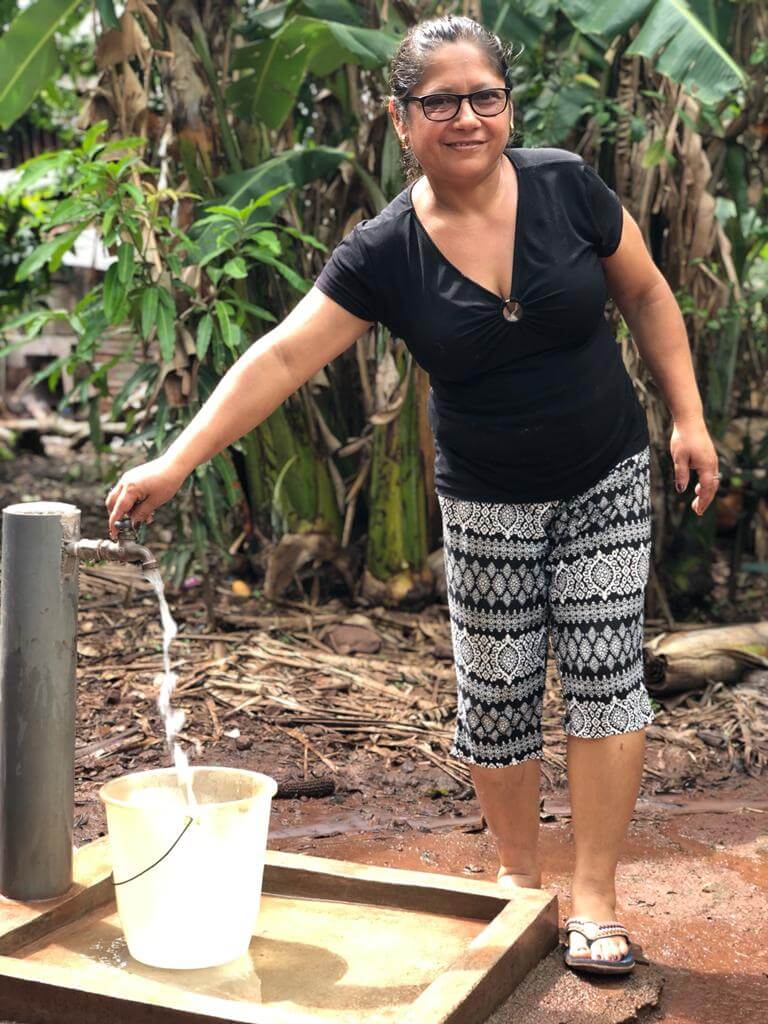 Project Information
Partnering with rural Nicaraguans to develop and implement lasting projects and educational programs that increase access to clean water.
Describe the need affecting community
The need for Water, Sanitation and Hygiene (WASH) education projects in Nicaragua remains great for rural populations living in abject poverty. Nicaragua is the second poorest country in the Western hemisphere. In the past decades, the country has suffered natural disasters and civil war that have destroyed infrastructure, drained resources and inhibited economic development. It is estimated that 43% of the population lives in poverty, but even more striking is that 68% of the rural population lives in poverty. In 2020, Nicaragua's Emergency Social Investment Fund reported that 55% of Nicaragua's rural communities have access to clean drinking water, and 51% of rural Nicaraguans have basic sanitation.
Although villagers recognize the need for improved water and sanitation, they cannot afford to purchase the construction materials themselves. In villages without access to potable water, residents use water from rivers, creeks, springs or unprotected wells for drinking, cooking and washing. This increases rates of diarrhea and skin infections. In addition, water responsibility falls on women and children who must travel far to bring water to their homes.
Globally, contaminated water is the second greatest cause of infant mortality; an estimated 1.8 million children die each year as a result of illnesses linked to consumption of polluted water. According to the United Nation's Human Development Report, the global water and sanitation crisis "dwarf[s] the casualties associated with violent conflict. No act of terrorism generates economic devastation on the scale of the crisis in water and sanitation." Per day, 5,000 children die because of illnesses linked to consumption of polluted water.
The country's water crisis is further exacerbated by rampant deforestation, drought and climate events like hurricanes that are increasing in frequency and intensity. Nicaragua has lost more than 50% of its forest habitat since 1950. The loss of forests in Nicaragua has increased soil erosion as well as reduced rainwater infiltration and aquifer recharge rates. Many springs and streams that once supplied rural villages with water have dried up, forcing people to walk farther and farther to find water.
How will this Advance project help to address the need?
El Porvenir ("the future") is working to provide clean water to improve health and lives for rural Nicaraguans now and for the future.
Our project provides tangible solutions to communities that are committed to improving their access to clean water, sanitation facilities and better health, but lack the resources to do so. El Porvenir provides the materials and training for the villagers to enable them to construct the project and undertake its long-term care and maintenance.
We implement programs following some key principles: (a) community empowerment through active participation and ownership in all aspects of the project, (b) creation of organizations in the community to manage resources in the long term and (c) focus on appropriate technology made from low-cost, locally available materials easily maintained by the community. By promoting community initiative and local decision-making, El Porvenir seeks to help communities help themselves.
Project activities include:
Provide technical expertise, training and funding for clean water and improved sanitation projects.
Together with community residents, coordinate construction, installation, reforestation and erosion prevention.
Conduct community and school workshops to train volunteer health promotors.
Provide hygiene education such as community chats, house to house visits, water testing, workshops, sanitation corners, coloring books, radio programs and murals.
Train Water and Sanitation Committees on operation and maintenance of facilities.
Conduct regular site visits to monitor and evaluate use and condition of facilities.
Our education program is the key to achieving our goals. We use a methodology that is participatory, practical and dynamic; this leads to a better understanding from community members. The results will be empowered communities that feel ownership for their project and take care of it in the longer term. The communities help insure sustainability through active participation with the water and sanitation committees, which are elected by members of the community.  These community-based water boards, which are responsible for collecting water-usage fees and using those fees to maintain and repair the water and/or sanitation infrastructure in the future, help build long-term project sustainability.
Describe the primary goal of the project
Our goals align with the UN Sustainable Development Goal 6: By 2030, achieve universal and equitable access to safe and affordable drinking water, sanitation and hygiene. El Porvenir has focused resources in five rural regions of Nicaragua, helping improve regional coverage of water and sanitation systems over time, village by village, and restoring watersheds to ensure access to water in the long term. Through this regional strategy, El Porvenir partners with municipal governments, other governmental ministries and NGOs to increase coverage of clean water, sanitation and hygiene in rural communities to reach universal access by 2030.
We work to empower rural Nicaraguans and communities to achieve better health through comprehensive clean water, sanitation, health & hygiene education, and watershed restoration projects that result in:
Lasting clean water and sanitation infrastructure looking to universal coverage (access to water)
Environmental and hygiene education (quality of water)
Protection of water sources (quantity of water)
Describe the change you would like to see in the community as a result of this Advance project
Clean water and improved sanitation are the precursors to health, education and economy that unlock the potential for community transformation. Economically, rural Nicaraguans benefit from the time savings of collecting water, fewer premature deaths and savings on health care. Beyond the economic return on investment, multiple studies demonstrate the many health, educational and gender equity impacts of water and sanitation interventions. For example, WASH in schools can increase school attendance, especially for girls. And the time savings of better access to water can empower women to choose to use their time for economic, educational or recreational opportunities.
We see daily the impact that clean water and sanitation can make in a community. For example, Doña Joaquina from the village of Maria Auxiliadora, San Lorenzo, used to spend four hours a day carrying water for use in her home. After working with El Porvenir to install a water distribution system, Doña Joaquina now has time for various income-generating activities, like agriculture, tending chickens, a small store in her home and sewing.
The 324 members of El Rincón #2, Terrabona, used to bring water home in buckets from a spring two kilometers uphill. "The water was not reliable; we brought it home unchlorinated and contaminated," said one resident. One time the dirty water caused a cholera epidemic in the community. Now 65 houses are connected to a new water distribution system with a tap at each household. "Now, we have available water. We don't have to walk far anymore; we go out to the tap, put the bucket under and have clean water pouring out."
Modesta del Carmen Salomón Alarcón is the treasurer of the Potable Water and Sanitation Committee in her community where El Porvenir developed both water and sanitation projects. When they did not have latrines, they relieved themselves in the open. "You see the water as clean, but we did a test, and it turned out that it is contaminated with many viruses and bacteria because people who live higher up don't have latrines. We know that when it rains, everything washes into the creek."
Now there is a latrine at each house, which reduces the spread of disease. Modesta and everyone in her community are so happy with the change. "Now we are no longer going to get sick, and we are going to prevent the stream from becoming contaminated," said Modesta.
Contact Information
Global Ministries Contact