Water@Work: Providing Clean Water in the Dominican Republic
Water@Work: Providing Clean Water in the Dominican Republic
Country:
Dominican Republic
DONATE NOW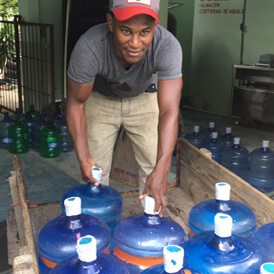 Project Information
Implementing community based water purification systems to impoverished communities
Describe the need affecting community
The worldwide water crisis consistently ranks as the greatest threat to mankind. In many places the challenge is primarily finding ample supplies of water. In the developing countries of the western hemisphere the issue is not water supply but contamination of the available water resources. Over one million people lack access to affordable, clean, safe water in the Dominican Republic where Water@Work serves. The Dominican Republic has a large, rural population that lives in generally small and relatively informal villages, called bateys, without any government resources or programs, such as a safe water supply, schools, medical facilities, etc. Many of the communities are home to a very large percentage of Haitians that typically mix with a smaller number of ultra-poor Dominicans. Women outnumber men generally and children outnumber women in these poor communities. There are many single-parent households since many men are absent, often for a long time, seeking work elsewhere. There is a regular flow of commerce but the people are poor, typically earning a few dollars per day if they have a job. Unemployment is high. There is no centralized sanitation – no sewer system or trash control. Pit latrines are common. There is often a water tower furnished by the local sugar cane company or a community water system which supplies well water to a portion of the community but no effective water treatment is done; therefore the "city water" is not safe to drink. These bateys have a physical thirst but also a spiritual one. Often there are small, informal Christian churches run by untrained lay pastors or there may be no Christian witness at all. Syncretic forms of Catholicism and voodoo are commonly practiced, especially among the Haitian refugee populations. A large part of our work is focused on bringing clean, safe water through a local church to this under-served – often unreached – rural population and empowering that church to bring the gospel of Jesus Christ to those who thirst for it.
How will this Advance project help to address the need?
This Advance project will further our efforts to create sustainable businesses in water purification and distribution through the local churches of the Dominican Republic. Each of our water plants is designed to become a sustainable, profitable, small business within itself, thereby improving the health of the people by providing clean, safe water at a reduced price. This will dramatically improve access to clean, safe water for impoverished communities. Also, by having a profitable business the local church is able to apply the profits to programs to reach their own community, and beyond, with the gospel of Jesus Christ. The water businesses also provide employment and spin-off businesses can be generated such as the formulation and sale of detergents and cleaning products.
Describe the primary goal of the project
The primary goal of the project is to bring transformational healing to rural communities of the Dominican Republic where over 1,000,000 people lack access to affordable clean water. This transformational effort is intended to make clean, safe water available in over 1,000 communities. This will be accomplished through the establishment of sustainable businesses in water purification and distribution through the local churches at strategic locations across the country to reach the rural and peri-urban populations. Access will be improved by offering the water at below market prices and maximizing the reach of a water distribution network.
Describe the change you would like to see in the community as a result of this Advance project
People without access to clean, safe water will be served. The local church will have increased importance to their surrounding communities. Church attendance, membership and baptisms will all increase. The gospel of Jesus Christ will spread as the local church increases its witness through evangelism programs, Bible studies, discipleship groups, and additional preaching points, chapels and house churches in the rural and peri-urban areas. This project will, over ten years, impact and transform the lives of over 1,000,000 people in desperate need for both clean, safe water and the Living water. The gospel of Jesus Christ and good health will reach not only the people currently in need, but future generations also because of the sustainability aspect of the Water@Work economic model.
Contact Information
Global Ministries Contact