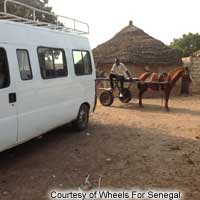 Project Information
Purchasing vehicles for ministry in Senegal for use in rural areas.
Describe the need affecting community
Mission vehicles are required to transport people and services to the churches and remote villages we are called to serve. Some of our pastors use mules or horses to get from their homes to the local church or to visit sick and shut in members. Sometimes pastors are not able to get to church or visit the sick because the animal is tired or sick. These vehicles are needed to deliver food, medical services and supplies.
How will this Advance project help to address the need?
Raise the awareness of our sponsors and friends here and abroad and continue to promote the wheels for Senegal as a vital ministry to support the other things we do here. It is critical that the pastors and administrators of the mission realize that the need for transportation is critical to the existence and that it not just the responsibility to raise money to purchase vehicles. Part of being self sufficient is finding a way to provide the necessities of live. Vehicles are necessary to support the life of the mission and the local church.
Describe the primary goal of the project
Obtain reliable transportation to support the projects of the Mission Initiative in Senegal. The pastors will be able to travel between churches and provide pastoral care and councelling as needed. Medical teams will be able to get to remote villages to provide medical care to the sich and shut in.
Describe the change you would like to see in the community as a result of this Advance project
Pastors and lay people being able to travel to meetings, rallies and evangelical events to help grow the church and spread the Gospel. Being able to participate in events.
Contact Information
Global Ministries Contact