Emmanuel Center for Women and Children, Tarime
DONATE NOW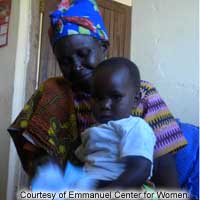 Project Information
Creating a safe haven to educate and build self-esteem for women and children.
Describe the need affecting community
Domestic abuse, both gender based violence as well as child abuse, is a significant challenge in Gamasara and it creates an environment that lacks peace and justice for both in the home as well as in the community. A lack of education among children, and education skills among women makes it harder for them to advocate for themselves in an effort to change the environment.
How will this Advance project help to address the need?
The Emmanuel Center will continue to empower women through skills training and worldview transformation training. Women and children both will be exposed to the understanding that they are people of sacred worth. We will work on community education in the areas of empowerment and women's and children's rights. We will work on development projects that continue to improve the lives of women and children in areas of income empowerment, health, and basic rights.
Describe the primary goal of the project
Empower women and children create an environment of peace and justice in their homes and villages. We hope to educate, economically empower, train in leadership, and build self-confidence through biblical teachings, in order to help women and children have the ability to change their own environments.
Describe the change you would like to see in the community as a result of this Advance project
1) Households having the economic ability to educate their children, have a nutritious diet, and be resilient in the face of family challenges and emergencies. 2) Women be empowered to become community leaders and decision makers. 3) Increase the value with which the community sees women and children.
Contact Information
Global Ministries Contact
Davis Rhodes
daviswarrenrhodesjr@gmail.com