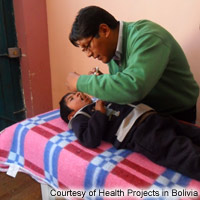 Project Information
Providing health services and clean water for improved health
Describe the need affecting community
Bolivia has the highest child mortality rate and shortest lifespan of any nation in South America. This is primarily due to the lack of concern by previous national governments to care for the poor in general, and the rural peasant communities in particular. The Bolivian government has, since 2006, begun to put significant resources into healthcare for the rural poor, but has a very long way to go. There is also a desperate need for dental services, especially in these remote villages. And the leading cause of infant mortality are the waterborne diseases coming from contaminated water. Less than 40% of rural villages have access to potable water.
How will this Advance project help to address the need?
The median income in these villages is less than $2/day, the UN definition of extreme poverty. Consequently, the nurses salaries, medicines, and clinical buildings, land, equipment, and even motorcycles to do home visits in nearby villages all need to be raised through donations. We need to raise approximately $65,000 a year to fund these 5 clinics, including medicines, the salaries for the 5 nurses and one doctor who supervises the project and sees patients with the Mobile Dental Clinic 24 weekends a year. We also need $15,000 a year for mobile dental clinic for dental medicines and supplies, vehicle expenses, repairs and maintenance of the mobile clinic, and salary support for the two dentists and the driver to go out 24 weekends a year. Water projects need $42,000 funds to pay for materials, engineering, and drilling of water wells.
Describe the primary goal of the project
Provide high quality basic health care services to the 5 communities we now serve, and add two new clinics within the next 4 years. This will reduce infant mortality, improve the health and increase the productivity of these communities. It will also reduce urban migration to growing slums around the city which leads to extreme poverty, starvation, and is the breeding ground of radicalism. By providing a sustainable solution to water projects, communities will see a huge improvement in their health, and it too can lead to reversing urban migration.
Describe the change you would like to see in the community as a result of this Advance project
Reduced infant mortality, reduced deaths from deliveries, improved access to healthcare, and improved health.
Contact Information
Global Ministries Contact