Safe Communities Projects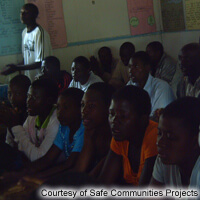 Project Information
Providing hope and supportive rehabilitation for youth and young adult victims of violence
Annual Goal: $25,000.00
Year to Date Gifts: $1,805.00
Describe the need affecting community
The need is strengthening of family and the community based, protection of children and youth with hydrocephalus, orphans, deaf and albinism. Each day, the safety and well-being of some children and youth in Zimbabwe are threatened by maltreatment (abuse, abandonment and neglect). Intervening effectively in the lives of these children and their families is a need. There is need for a decrease in cases of emotional/psychological maltreatment of children and youth by caregivers and communities. The failure by some caregivers to provide needed, age-appropriate psychological, emotional support is a concern. These vulnerable children need safety, protection and care. Emotional/Psychological neglect such as refusing or failing to provide needed psychological care, constantly belittling children and withholding affection are common in Mutare, Zimbabwe. Affected children end up having low self-esteem, poor performance in class, engaging in early child marriages, antisocial and other destructive behaviors such as use of drugs or alcohol. Consistent failure to respond to the child's need for nurturing, encouragement and protection; constant name calling or threatening of children; and isolating children from having normal social contacts with other children and adults are types of child neglect that some children with hydrocephalus, albinos and hard of hearing experience.
How will this Advance project help to address the need?
We work to ensure safety and well-being of Zimbabwean 's children, youth and families by raising public awareness of the impact of abuse and neglect, and by developing and promoting effective care and prevention strategies. Continuously living without these necessities, can delay and even prevent proper brain development, which can lead to problems e.g. interpersonal relationships, doing poorly in school, delinquency, and health issues. As SACOP is addressing this problem by equipping caregivers with parenting skills, establish Mental health Awareness Clubs in 11 high schools in Mutare District, where we will equip over 2000 students with positive coping skills. We have entered into partnerships with Local hospitals where we offer mental health care to over 100 abused children, youth and adults who struggle with psychosomatic problems. We also have partnered with City Council Health Department and Rural District Councils to reach out to over 100 vulnerable out of school youth every month. We offer them life skills and assist them how to make informed, constructive life choices.
Describe the primary goal of the project
Keeping our children and youth safe from all forms of maltreatment (abuse abandonment and neglect and reduce the impact of emotional and psychological harm). We strive to enable protection, safety, strength and hope to children, youth and their families.
Describe the change you would like to see in the community as a result of this Advance project
(a) Improved care and protection of children and youth (b) Increased knowledge within community on the role they have in protecting children and supporting families. (c) Breaking the cycle of child abuse. (d) Strengthened family and community members response to the needs of children.
Contact Information