Disability Ministry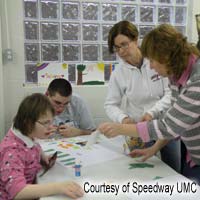 Project Information
Providing accessibility and program grants, resources, education and advocacy to annual conferences and congregations, so people with disabilities can participate at all levels in United Methodist Churches.
Describe the need affecting community
Many people with disabilities do not feel welcome in church. Churches need tools to be more welcoming and remove barriers. For instance, 1. Some churches are not accessible to people with wheelchairs or walkers. 2. Others mistakenly believe people with autism or intellectual disabilities do not understand God and don't belong at church. 3. Sunday school teachers and adult program leaders need more tools to teach and engage persons with disabilities. 4. Disability Concerns Committees in Annual Conferences need more resources and education to be better equipped and empowered in their ministries.
How will this Advance project help to address the need?
The DisAbility Ministries Committee of the United Methodist Church, formed in 1992 as the National Task Force on Developmental Disabilities, was launched in 2013 as a result of General Conference action. Their mission through advocacy, education and empowerment will lead the UMC in creating a culture where people with disabilities are fully included in all aspects of worship, leadership and ministry. The Committee offers resources including a web site with articles and downloadable tools, a newsletter, support for awareness and educational events and consultation. Ten jurisdictional members and liaison members from related agencies lead this effort.
Describe the primary goal of the project
The Primary Goal United Methodist congregations will unconditionally welcome people with all types of disabilities. Work toward this goal is grounded in Wesleyan theology and includes 1. Grants to Churches and Conferences 2. Resources, Education, and Advocacy tools such as a. A website with links to UMC resources and happenings b. A newsletter highlighting topics relevant to disability ministries c. Social media to raise awareness and provide information d. Training opportunities and speakers e. Curriculum Experienced volunteers keep costs low, but the work may stop without funds for grants, planning meetings and administrative costs. Advance funds help pay part-time employees to answer requests, take care of needed logistics, offer trainings, edit the newsletter, administer social media, and maintain a web site.
Contact Information
Global Ministries Contact