Mar Elias Peace Study Center
Country:
Israel/Palestine
DONATE NOW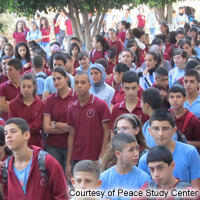 Project Information
Provide scholarships and interfaith educational program for future peace-makers in Israel/Palestine
Describe the need affecting community
MEEI is situated in Ibillin, a small Arab village in the Galilee region of northern Israel, near Haifa. About half of MEEI's students are from Ibillin. The rest come from forty villages in a radius up to 50 miles from Ibillin because of MEEI's excellence. A few students come from as far away as Jerusalem and Beer Sheva in the south of Israel. Since its founding in 1982, MEEI has been recognized in Israel and around the world as a special place where students and teachers from all sectors of Israeli society – Jews, Druze, and Arab Christians and Muslims – meet on a daily basis to learn and work together toward building a better future. Israeli society is quite segregated, and Mar Elias Schools provide one of the rare places within Israel where a mixed population gets the chance to deeply know each other. The students are all Arab citizens of the State of Israel. They include Christians, Muslims, and Druze. The faculty includes Jewish teachers, as well as Christians, Muslims, and Druze. "Twinning" relationships with Jewish schools give students regular opportunities for interfaith activities that help each side get to know "the Other." This is exceedingly important for individual personal success and mental health, but is also crucial for the larger society. The local economy is difficult: Thirty five percent of the local adult population is unemployed. Sixty five percent of Israel's Arab population, including those in Ibillin, live below the official poverty line. The situation is similar throughout Galilee and for all Israeli Arabs. Therefore, the opportunity to have students receive a top-flight education is important in order to give the next generation the best chance to succeed and flourish. Although MEEI tuition is kept much lower than other private schools, at $340 per student per year, still sixty-five percent of MEEI students need scholarship help to be able to attend school here. Because the local public school ends with eighth grade, Mar Elias High School is local students' only option to get a high school education near home. In the surrounding villages, the segregated public schools for Arab students are substandard, with students scoring average test results that are only half as good as scores for students in Jewish public schools. At MEEI, on the other hand, students score well above the national averages for all students. Mar Elias High School thus gives students the best chance to prepare for a better future.
How will this Advance project help to address the need?
This project will provide a portion of the very large amount of scholarship funds needed on an annual basis to serve 2/3 of the student body, which includes a total of 1200 high school students and 1100 students in grades 1 through 8. But how are scholarships allocated? There is no formal application process for financial aid, nor do parents file a confidential financial statement as is common in the U.S. MEEI school officials get a sense of financial needs during the application process. Teachers also learn about needs of students in their classes, as they interact with students and read their writings. And sometimes school officials receive calls from local social workers who are aware of needs in their communities. For the High School, decisions are made by a team of leaders including Director Elias Abu Ghanima and other senior administrators, with input from homeroom teachers. A similar process exists for the Grade School with the principal and homeroom teachers.
Describe the primary goal of the project
The goal of the Mar Elias Peace Study Center is to equip new generations of the brightest Christian, Muslim, Jewish, and Druze students in Israel/Palestine to know "the Other," to be creative problem solvers and bridge-builders, and to become key leaders in their professions and their society.
Describe the change you would like to see in the community as a result of this Advance project
The community will be proud of its association with the award-winning Mar Elias Educational Institutions and the founder Father Elias Chacour, with this pride being reflected in municipal media and in support (financial, land-use permits, provision of security) for campus improvements. Community members will be invited to use Mar Elias's extensive library as a community library, since there is no such library elsewhere in Ibillin. Community members will join the Mar Elias Fitness Center, using its excellent exercise facilities to improve the health and fitness of students and adults in Ibillin. Culturally appropriate programming and teaching (separated by gender but not by religion) will make the Fitness Center an attractive resource for all. A healthier community will express appreciation for Mar Elias' example and practice of teaching tolerance and respect for "the Other." Thus Ibillin will be seen as a regional and national resource for peace-building.
Contact Information
Global Ministries Contact
Elias Abu Ghanima
972 (0)4 8432105