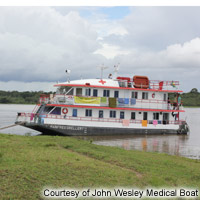 Project Information
Providing medical and dental assistance for villages in the Amazon
Describe the need affecting community
The Amazon region is one of the most impoverished areas of Brazil. While there is wealth and development in its capital Manaus, medical and dental service does not reach the majority of the population of this area. Most river villages only receive sporadic assistance and most major medical and dental needs must be filled in the capital that is often several days boat ride away. Preventative medicine is almost non-existent. The John Wesley Medical boat reaches thousands of people each year through Brazilian and international volunteers. These work teams travel to specific areas where help is needed. The local villagers know when the boat is coming and come by the hundreds to receive help. The boat has also sponsored training events in many of the villages taking professors and students from Methodist universities in Brazil to work with the villagers in preventative medicine and dental hygiene. The villages that the medical boat visits have little access to regular health care. If an emergency arises, family and friends try to take the person on a long trip to the capital for treatment. If the local person has "minor problems" such as skin infections or rotten teeth, they must wait until the problem becomes severe to receive treatment. The medical boat is a source of relief for thousands of people.
How will this Advance project help to address the need?
Volunteer teams from Brazil and abroad provide medical and dental treatment as well as teach first aid and preventative medicine. High among the priorities for teaching are ways to improve nutrition from locally produced foods.
Describe the primary goal of the project
Improve the holistic health of targeted areas in the Amazon through direct services and preventative health education.
Describe the change you would like to see in the community as a result of this Advance project
Some of the health needs are inherently provided by outside health workers. Efforts are made with local leaders to pressure the government to expand its health services to these river communities. Some of this is a long term issue because it is hard to find doctors that are willing to live in the primitive villages. It is much easier to train local people in preventative health, first aid, dental hygiene and develop water purification and food production projects. Progress has been made but it is very difficult to do this on the limited budget that the medical boat operates with.
Contact Information
Global Ministries Contact