Integrated Community programs for Maternal and Child Health, UMC Kissy
DONATE NOW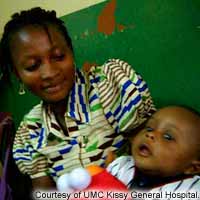 Project Information
Providing comprehensive healthcare
Describe the need affecting community
The crisis in human resources for health is one of the most critical factors underlying the poor performance of health systems in resource-constrained settings. This crisis hinders the equitable delivery of effective and quality interventions for SR/MNCAH and other priority health issues. In 2003, the World Health Organization (WHO) published Working with individuals, families and communities to improve maternal and newborn health, the IFC Framework that promotes integrating the health promotion approach set out in the Ottawa Charter into national maternal and newborn health strategies. Numerous Community Health programs have failed in the past because of unrealistic expectations, poor planning, lack of supportive supervision, and underestimation of resources required to make these programs work.
How will this Advance project help to address the need?
In the national health action plan, malaria, acute respiratory infection, infectious diseases of childhood (immunizable), nutrition-related, water, food and sanitation-borne diseases are priority health problems for the ministry. Health interventions need to reach communities either at home or by encouraging mothers to visit the health facility. The integrated CBPHC program can reduce costs and other barriers preventing communities especially women and children under 52 months from accessing services. Community sensitization creates awareness within communities about a wide range of preventable diseases especially for new born, infants and children. It will encourage them to improve practices like personal hygiene, exclusive breast feeding, better nutrition, the use of insecticide treated nets and appropriate care seeking behavior for children and mothers.
Describe the primary goal of the project
To provide an integrated functional and sustainable community health care delivery service, efficient, of high quality care that is accessible and affordable to accelerate the reduction of maternal and child health morbidity and mortality.
Describe the change you would like to see in the community as a result of this Advance project
The integrated health Program has professional staff trained to assess newborns and under-fives through the Integrated Management of Newborns and Childhood Illnesses (INMCI). This provides a comprehensive services to be offered in communities, at the hospital and the interlinkages between them: • Immunization of all children. • Assessment of Neonates and infants. • Growth Monitoring and wellness. • Nutritional status of children under-five and other vulnerable groups. • Defaulter tracing and follow ups. • Health education and community sensitization. • ANC checks and referrals for ANC package. • Social Mobilization for hospital service delivery and care. (Routine vital checks for non-communicable diseases).
Contact Information
Global Ministries Contact
Catherine Norman
Carl F. Hudson Jr