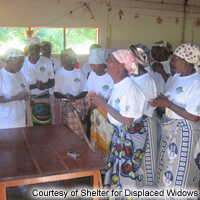 Project Information
Giving shelter to widows who have been rejected from their homes by their late husbands' relatives.
Describe the need affecting community
People in this community need to be trained to take care of their old people. Due to the effects of the civil war in the country people now live in an environment filled with anger and frustration, as a result they have no tolerance for old people.
How will this Advance project help to address the need?
The project will help to address the needs by talking to the local structure of the government including church leaders in order to set laws to respect human rights in the community.
Describe the primary goal of the project
The primary goal of the project is to bring peace and love to these widows so that they can restores their self esteem. We will assign a psychologist who will go to the center periodically to talk to the widows, and show that they still have importance among the community. We also aim to build a dining hall where the widows will come together and have meals chat, and share what they have.
Describe the change you would like to see in the community as a result of this Advance project
I would like to see many old people in the families live in their own homes, and in 10 years time this center can become a women training. Instead of being an old home for the widows.
Contact Information