Southern Congo Wings of the Morning
Country:
Congo, (Democratic Republic)
DONATE NOW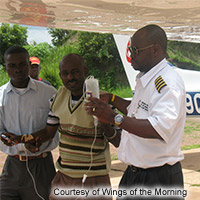 Project Information
Reaching remote areas with medical care, and support the church leadership
Annual Goal: $163,000.00
Year to Date Gifts: $15,743.50
Describe the need affecting community
The infrastructure in the Congo is almost a none existence in the remote areas we fly into. Shuttling medicines, doctors, church leaders,VIM, and patients become a task that the church is called for in its missions of caring for others.
How will this Advance project help to address the need?
We work hard to support the church in many ways we can.
Describe the primary goal of the project
To help the church members and community to embrace the challenge of becoming self funding by believing that is "our" problems. It brings them to be apart of a solution.
Describe the change you would like to see in the community as a result of this Advance project
Accepting that they need to believe in self funding.
Contact Information