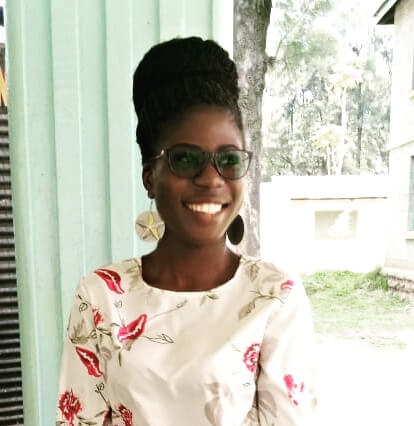 Serving At: Mozambique Annual Conference Health Board
Home Country: Kenya
WAYS TO REACH ME:
This person is a candidate for the GMF INT'L Track and is expected to be confirmed by October 31, 2023.
Sylvia Night Wesonga is an international Global Mission Fellow with the United Methodist General Board of Global Ministries, engaged in a two-year term of service.
The Global Mission Fellows program takes young adults ages 20-30 out of their home environments and places them in new contexts for mission experience and service. The program has a strong emphasis on faith and justice. Global Mission Fellows become active parts of their new local communities. They connect the church in mission across cultural and geographical boundaries. They grow in personal and social holiness and become strong young leaders working to build just communities in a peaceful world.
At the Huruma Tent of Prayer, a United Methodist congregation in Nairobi (Kenya-Ethiopia Annual Conference), Sylvia participates on the praise and worship team, teaches and leads devotions.
She earned a diploma in nursing and midwifery at the Pumwani College School of Nursing and Midwifery in Nairobi City.
Raised by a single mother who struggled to provide for her children, Sylvia completed eight years of formal education.
"When I was about to join high school," Sylvia recalled, "we could not afford the fees to continue my education. I felt as if all dreams were shuttered; I lost hope and was in despair." Her family tried unsuccessfully to raise funds.
Sylvia, a bright student, applied for a scholarship. "With God's favor," she said, "I was among the shortlisted students. Though the scholarship could only cover 75% of the fees, it was a miracle for me and my mum." Her mother worked to raise the remainder.
"Things were not easy," Sylvia said, "but we had no choice. Giving up was not an option." The family managed to survive, and Sylvia passed her final exams at Vinespring Girls High School – Ruai, Nairobi. But her dream of going to college seemed elusive.
"Once again," she said, "I was stranded. I could not afford the college fees, so I had no option but to drop out and help my mum to provide for the family. I worked for two years, trying to save. My brother had just finished the eighth grade, and he was supposed to join high school."
God intervened. The same organization that had sponsored Sylvia's high school classes decided to pay for both her and her brother to continue their education.
"I saw God," she said, "and experienced his love. "I know how it feels when your are at your lowest point and somebody comes in and helps you out of your situation. I want to give back to the community and be a source of hope. I want to be the source of light to someone who is in darkness."