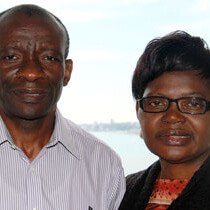 Serving At: Mutambara Hospital, Zimbabwe
Home Country: Nigeria, Africa
WAYS TO REACH ME:
Florence Ogugua Mefor is a missionary with the Board of Global Ministries of The United Methodist Church assigned to Mutambara, Zimbabwe, utilizing her skills as a nurse mid-wife.
"God's mission is being carried out as numerous women and children are being cared for and given higher chances of survival,"she says. "My ministry is to help save lives, improve failing sights, and general well-being of patients," Florence shares. "God's hands are at work – recently patients with severe diarrhea and shock from an area of epidemic were rushed in for treatment. Their survival was miraculous because their recovery was not due to our nursing expertise. A child of seven years had a snakebite and it was five days before he got to the hospital. He had a clotting deficiency and was bleeding from every point. God was so merciful as on the fourth day he was up and about."
A native of Abatete, Nigeria, Florence became a registered midwife following studies at the School of Midwifery in Awgu, Nigeria. She earned her nursing degree from the School of Nursing in Jos and spent 14 years nursing at the Evangel Hospital in Jos, which is in Nigeria's Plateau State.
Florence served at the Chicuque Hospital in Mozambique from 1999 to 2003, and in her home country with the UMC Rural Health Program from 2003 until late 2006. Before her commissioning as a GBGM missionary, she served at Chicuque as a person in mission(PIM) through the GBGM's Global Mission Partners program.
Florence is married to Dr. Emmanuel U. Mefor, also a GBGM missionary. They have three children, Chukwuebuka, Osita Jude, and Anulika.
Florence Ogugua Mefor is available for Covenant Relationship support in Iowa Annual Conference, Missouri Annual Conference, Great Plains Annual Conference, West Virginia Annual Conference.