Church World Service, Blankets and Tools
DONATE NOW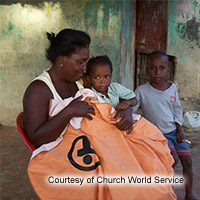 Project Information
Providing congregations the resources to support disaster response and rights-based community development projects in communities around the world.
Describe the need affecting community
The Blankets and Tools program provides financial support for a variety of projects that provide food and water, as well as resources that empower people to meet their own needs. From seeds and tools, to wells and water systems, to technical training and small business loans, the key is people working together to identify their own development priorities, their strengths and their needs, something CWS has learned through some 70 years of working in partnership around the world. Hunger is the number one risk to global health, killing more people each year than AIDS, malaria and TB combined. We have a cure for hunger – food – and there is enough produced in this world to feed everyone. In many places in this world, food exists in the marketplace or could be grown in the environment but vulnerable populations lack access or resources to buy or grow the food or secure the water needed to flourish. The key to solving hunger is to address the root causes of hunger with transformational development projects that give not a hand-out, but a hand-up to our brothers and sisters in need.
How will this Advance project help to address the need?
The United Methodist Church is one of 37 member communions of CWS. Each year congregations find the educational and promotional resources provided by CWS to be effective in increasing member engagement and support of those experiencing disasters, hunger, and poverty through the Blankets and Tools program.
Describe the primary goal of the project
The Church World Service Blankets and Program aims to garner support from congregations to provide basic emergency supplies, as well as tools and resources for long-term recovery and development to communities in need.
Contact Information
Global Ministries Contact
Rebekah Belase
2128702205