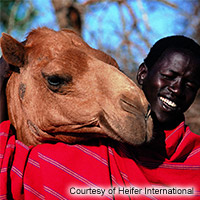 Project Information
Working with communities to end hunger and poverty
Describe the need affecting community
There is a great need for Heifer International's work with communities to end hunger and poverty and care for the earth by partnering with poor smallholder farmers. Worldwide over 700 million people are living in extreme poverty on less than $1.90 a day (1), and hunger kills more people each year than AIDS, malaria and tuberculosis combined (2). The UN estimates that 805 million people, about 1 in 9 of the world's population, are chronically undernourished. The issues of hunger and poverty are closely linked. Families living in poverty cannot afford to buy nutritious food, causing under nourishment and poor health which in turn negatively impacts their ability to earn enough wages to support themselves. The World Bank estimates that on average a malnourished person can suffer a 10% reduction in his/her lifetime earnings. Poor nutrition causes nearly half (45%) of deaths in children under five 3.1 million children each year (3). Children that reach adulthood often struggle with undernutrition's life-long effects including delayed physical growth and motor development, impeded behavioral and cognitive development, decreased attention, deficient learning, and lower educational achievement, all of which undermines their future productivity and ability to break the cycle of poverty. Agriculture is the main source of income and employment for the 70% of the world's poor who live in rural areas (4). Research by the UN's Food and Agriculture Organization shows that investment in agriculture is five times more effective in reducing poverty and hunger than investment in any other sector. Gifts of high-quality livestock and training in sustainable farming practices can increase a family's income. In addition, farming can supply a family with nutrient rich food and help diversify their diet, leading to improved health and increased productivity. Working with communities extends the benefit of access to nutritious food beyond individual families to neighboring populations. . Sources: (1) World Bank; (2) FAO, The State of Food Insecurity in the World 2015; (3) The Lancet, Series on Maternal and Child Nutrition; (4) World Bank
How will this Advance project help to address the need?
Heifer International believes ending world hunger is possible and within in our grasp. Partners, such as the people of The United Methodist Church are critical to this vision. For decades, United Methodist Churches have contributed to Heifer projects through the Advance which directly helps families to become self-sufficient in sustainable ways. The impact of this partnership is profound and plays an important role in the struggle against hunger and poverty. Before the start of any Heifer International project, we evaluate and work with project partners to seek the best sustainable solution for their circumstance. Fundamental to success, project participants take part in Passing on the Gift (POG), by providing their animals' offspring to other members of the community, along with the training they have received, ensuring that a Heifer project creates an ever-widening network of hope, dignity and self-reliance. This process transforms recipients into donors and, at minimum, doubles the impact of initial investments in Heifer projects.
Describe the primary goal of the project
ZIMBABWE – Goat Value Chain for Food Security: GOAL – To improve the livelihoods of families, primarily women-led households and families affected by HIV/AIDS, to create and strengthen the goat value chain or local enterprises development. OBJECTIVE – To provide livestock, resources and training for 2,160 families (720 original and 1,440 through Passing on the Gift). Also, families will form a total of 24 self-help groups of 90 participants, of which 60% will be women members. The immediate impact of this project will be an increase in income and food security. MEXICO – Weaving Life the Coast and Isthmus: GOAL – Help families improve food production, gain access to markets and manage natural resources. OBJECTIVE – To assist 1,420 families (original and Pass on). Strengthen the knowledge and skills of promoters and families through Farmer Field Schools. Families can learn through observation and experimentation in their own fields, allowing them to improve their management skills and become experts on their own farms. The immediate impact of this project will be improved productivity, income and an increase in nutritious crop yields. CAMBODIA – Income, Improving Income and Nutrition Through Community Empowerment: GOAL – Help 20,000 families to diversity their income sources and add value to crops and livestock while increasing their access to markets and ability to better adapt to major economic and environmental shocks. OBJECTIVE – To provide 5,000 original families from 200 women's self-help groups with a total of 6,000 swine and 75,000 poultry. They will also receive resources such as tree saplings and vegetable and forage seeds. We plan to reach an additional 15,000 families with assistance from 40 community facilitators, and the original self-help groups (who will form 1,000 additional self-help groups) to pass on the gifts of animals, seeds, equipment and training. The immediate impact will be an increase in income, diversification of diet and access to nutritious food.
Contact Information
Global Ministries Contact
Jill Kilty Newburn
6508230589