Central Appalachian Missionary Conference Church and Outreach Ministries
DONATE NOW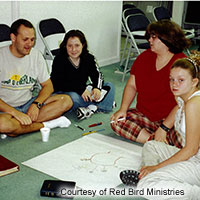 Project Information
Central Appalachian Missionary Conference (CAMC) is a vibrant, God-focused ministry of The United Methodist Church with a focus on sharing the love of Jesus and bringing hope to the people of Central Appalachia.
Describe the need affecting community
This corner of Appalachia is a marginalized area marked by vibrant people who struggle economically. Many villages do not even have internet yet. The need in southeast Kentucky, where the CAMC serves, is not only in economic security but in food security and infrastructure as well.
How will this Advance project help to address the need?
This project develops generative systems that identify and resource new leaders to equip our local churches for making disciples.
Describe the primary goal of the project
The goal is to produce a healthy and revitalized CAMC that is missionally effective.
Describe the change you would like to see in the community as a result of this Advance project
By leaning on God's grace and abundance, CAMC shares the resources it has with our neighbors in need. We would hope through our efforts to increase people's ability to thrive in Appalachia, secure the resources they need and deepen their spiritual lives so that they can serve God, their families and their community. In community we hope to revitalize our churches through prayer and hard work, as God uses us to gather more disciples who can transform the world.
Contact Information
Global Ministries Contact