Augmenting Food Production and Income in Times of Siege: Women's Gardens
Country:
Israel/Palestine
DONATE NOW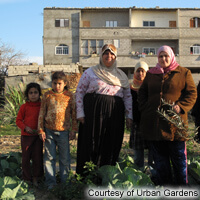 Project Information
Augmenting food production and income for women in Gaza, Palestine through Urban Gardens
Describe the need affecting community
Throughout the past 10 years Gaza citizens have suffered from heightened vulnerability and instability; around 66% of the people in Gaza were receiving food assistance prior to the 2014, war and vulnerability to food insecurity was 72% of households. Poverty rates and deep poverty reached up to 38.8% and 21.1% respectively in the year 2011. Unemployment has increased dramatically since mid-2013; reaching up to 46.9% on June 2014. In 2014, the Israeli military launched the offensive "Operation Protective Edge", the third offensive in the last six years and the most destructive of the three, lasting 50 days. "Operative Protective Edge" involved the use of Israeli aerial, naval and land troops and machinery that hammered the Gaza Strip with thousands of explosive materials. "Operation Protective Edge" killed 2215 Palestinians, including 1634 civilians (73.8%), including 556 children and 293 women. Over 10,850 Palestinians were injured, and over 32,000 houses destroyed or heavily damaged. Livelihoods were lost, water systems destroyed, and food systems demolished. In addition, Palestinians' right to freedom of movement has also been seriously curtailed since the offensive. For example, the Rafah border checkpoint has only been open once for three days since October 2014. The severe restrictions on freedom of movement impact Palestinians' ability to work, to grow food, to access medical and mental health care, and to reconstruct the heavily damaged Gaza Strip. During the 2014, bombing of Gaza, rockets and mortars targeted Gaza's ability to feed itself: primarily its farmland and livestock. The result of the bombing has intensified already severe levels of hunger and malnutrition. Tragically, the 'war of hunger' on Gaza has been exacting a particularly grim toll on the children, women and men there.
How will this Advance project help to address the need?
The project, developed according to the needs of the beneficiaries with their input, will provide a sustainable and growing source of income and nutrition for the families by providing them with animals such as rabbits and chickens (or, when households have sufficient land, other animals such as goats or sheep) for breeding, and a plant unit (45 sq. mile green house which allows food production all year round for the family) to grow food. The families will also receive ongoing technical assistance to help them with their urban food production operations. The women use rooftops or other small strips of land around the house for their food production. For example, in the case of rabbits, within a year each rabbit will produce an average of 40 rabbits which can be sold for a net value of $400. And the plant unit will generate an estimated $700 per season (3 to 4 months) which will result in an average of $2500 per year. The targeted families will continue to sustain their operations beyond the project's end as they generate income from the food production. The project is implemented in Gaza by our partner, the Palestinian Agricultural Relief Committees (PARC) which operates a number of other projects involving food production and water infrastructure in Gaza, of which this just one.
Describe the primary goal of the project
To increase nutrition and economic resiliency among 250 poor vulnerable, women-headed households affected by the 2014, war on Gaza.
Describe the change you would like to see in the community as a result of this Advance project
• Improvement of food security for targeted households living in extremely challenging social and economic situations. • Improved income for the families as a result of the increased food production. • Improved nourishment of family members. • Families become more aware of effective agricultural practices.
Contact Information