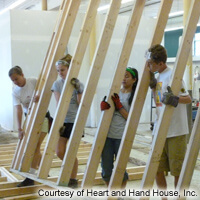 Project Information
Offering encouragement and assistance to in-crisis, low-income families
Describe the need affecting community
We are located in rural Appalachia, in a community that is faced with severely limited employment opportunity, a high rate of unemployment and underemployment, a high incidence of broken or disrupted homes, high rates of obesity and other health-related problems, increasing rates of substance abuse, limited food access, an aging population, and low educational achievement. As a result, many families struggle to make ends meet and do not have enough money to feed, clothe, or otherwise maintain their household.
How will this Advance project help to address the need?
We will continue to engage community, regional and national support and partnerships to sustain our existing programs (food pantry, Backpack Feeding Program, Christmas Basket distribution, Community Garden Market, Thrift Stores, Home Repair and Construction), periodically reviewing our services to determine if and when changes are needed.
Describe the primary goal of the project
To minister to the physical, mental, spiritual and emotional needs of in-crisis, low-income people of Barbour County and its immediate surroundings through direct and indirect services, such as food, medical assistance, clothing, rental assistance, information referral, housing repairs, and empowerment education. We strive to elicit the human and financial support of not only United Methodists but all individuals and groups who realize the needs of the area and have the means to meet them.
Describe the change you would like to see in the community as a result of this Advance project
We would like to see individuals and families who are struggling in poverty to have their basic needs of food, shelter and clothing, met.
Contact Information
Global Ministries Contact
Brenda Hunt
ministry@heartandhandhouse.org
3044571295
http://www.heartandhandhouse.org