Mary Jo Phillips Methodist Daycare Center of Asuncion, Paraguay
DONATE NOW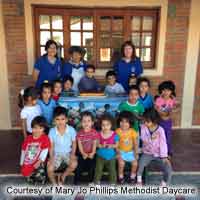 Project Information
Serving children two to four years of age in a very impoverished area of Asuncion
How will this Advance project help to address the need?
-The project will continue to supply a safe loving daycare learning center for the children of the community. -Two newer programs will continue to connect the daycare to the church and the community. An after-school tutoring program, and JUAD (a Boy Scout
Describe the primary goal of the project
To see families in the community, receive Jesus. This will make an impact on all their lives. By sharing Jesus though our "social gospel" of the daycare, tutoring program, JUAD, and technology training it will help in eliminating savvier poverty, drugs and violence, and will have a long term impact on the community.
Describe the change you would like to see in the community as a result of this Advance project
As a result of this project I would like parents to develop good parenting skills. Individuals come to Christ. Families get better jobs. Students successfully complete high school, and beyond. My number one priority is to see a contagious community for Christ.
Contact Information
Global Ministries Contact