East Congo Church Reconstruction
Country:
Congo, (Democratic Republic)
DONATE NOW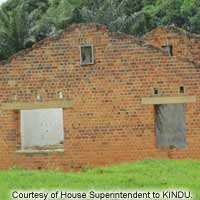 Project Information
Restoring and renovating local church buildings and parsonages.
Describe the need affecting community
East Congo Episcopal Region is a new Episcopal Area of United Methodist Church. This new Episcopal Region which was inaugurated on August 20th 2012. It embodies 12 of 26 provinces of the Democratic Republic of Congo (DRC) and plus entire territory of Central Africa Republic. It organize 3 annual conferences, 840 local churches, about 463,000 local membership. This region was massively ravaged by 15 protracted war. This situation, in addition to its many social, economic and humanitarian consequences on the society, left the infrastructures (including church building), of the church in East Congo in total ruin. About 90% of the local churches and parsonages in this new episcopal region are being totally destroyed. In many villages, people have god to worship in the open in miss shift structures and under trees. This situation raised the urgent need to reconstruct damaged local churches buildings and parsonages where members could worship in the beauty of holiness.
How will this Advance project help to address the need?
The project aims to revitalize worship and promote Methodist values as in the past. To accomplish this, the infrastructures of places for worship and pastor's house will be reconstructed. This will facilitate the revival of the churches servicing at least 8,000 methodist members. In addition, the church pastors serving in local churches would live in conditions that would improve their effectiveness.
Describe the primary goal of the project
Restore to function the remaining 61% East Congo's local churches which still need to be renovated and rehabilitated by the end of 2020.
Describe the change you would like to see in the community as a result of this Advance project
The communities in project area have good church building and believe in Jesus Christ as their lord and savior.
Contact Information
Global Ministries Contact
Bishop Gabriel Unda Yemba
(243) 99 812 7204