Belize Methodist High School Scholarship and Construction Fund
DONATE NOW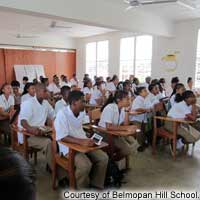 Project Information
Constructing a high school to build youth leadership and congregational development.
Describe the need affecting community
High School education in Belize is costly and also not always available. Over 50% of youth in Belize are NOT able to attend school. Building the Belmopan Methodist High School has been a huge force in creating more openings for potential students. The Belmopan area is especially needy for high school opportunity which is a "newer" city and most schools have been built along the coastline where people originally settled when Belize was "British Honduras".
How will this Advance project help to address the need?
The project will help address the need by giving us a method to share opportunities to contribute through the ADVANCE, therefore offering donors a way to receive a tax deduction and also be assured that 100% of their donation goes towards educational needs.
Describe the primary goal of the project
Making education available to people who would otherwise not be able to continue education past primary levels.
Describe the change you would like to see in the community as a result of this Advance project
Educational level improved in the general population of Belize. Also see the help drive up social economic levels of the population of people in the Cayo District.
Contact Information
Global Ministries Contac
Sandy Raasch