Scholarship for Children for Education at Mabel Jones Hostel
DONATE NOW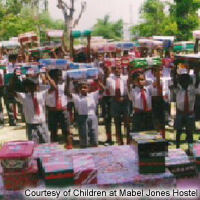 Project Information
Providing shelter and education for children in need.
Describe the need affecting community
These children come from rural and outskirt areas and are really so extremely poor that their parents cannot afford to pay for the education, health, and life of their children. It is only the poor and backward rural section of the society where the children come to the hostel. Which is an imparting education both through English and Hindi mediums. Their parents can't afford to pay fees, or support them for their bright future. It would be a great help for their community.
How will this Advance project help to address the need?
When we get scholarship for children then we fulfill their needs.
Describe the primary goal of the project
To provide better, proper, and adequate facilities to the children. To attract more children to the hostel and school. With this project the message of life in Christ will reach out into the remote areas and weakest section. When they become young they will think about the people who supported them. They will learn the lessons of sacrifice, love, giving, and they will come closer to Christianity.
Describe the change you would like to see in the community as a result of this Advance project
As the result of the project, hostel is very useful for the community. When children live in the hostel, they learn how to live, become civilize, and be good church leaders. Poverty and uneducated backgrounds is not good for community.
Contact Information
Global Ministries Contact
Mrs. Chandra Kiran Wishard
915862243305