Nigerian United Methodist Nursery-Primary School at Gwandum
DONATE NOW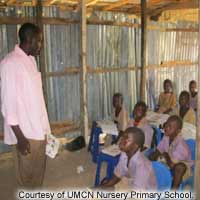 Project Information
Providing quality education for children and youth.
Describe the need affecting community
The community need to finish the two classroom buildings, get more money for good equipment, material and food for the school. This will help the children to study under a secured roof not the old breaking ones.
How will this Advance project help to address the need?
The help will come to push quick development of the project.
Describe the primary goal of the project
To produce good instructional materials, for a good basic education to infants of this rural area. Give hope to parents and children for a better future.
Describe the change you would like to see in the community as a result of this Advance project
A development where people have open eyes, and open minds. That's ready to go further with their education and come to develop more and more for the community.
Contact Information
Global Ministries Contact