Caretakers of God's Creation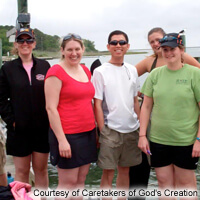 Project Information
Caring for God's creation is integral to what it means to be disciples of Jesus Christ.
Describe the need affecting community
The need is to have clean air, land, access to clean water, and for the ability to grow food in the midst of changing agricultural cycles. The need is for good, solid, scholarly theology of creation care. Also to provide a healthy environment for our children so they can grow up without disease caused by an unhealthy planet. The need is to mobilize communities to be able to protect their "own" land from the destructive effects of extractive industries and development. As well for the need to shift away from a fossil fuel based economy to one based on alternative sources of energy. Along with the need to have an alternative to a mindset that encourages unlimited consumption. An last the need is to live within the means of the earth to provide for all of us equally, to live a very simple existence.
How will this Advance project help to address the need?
We are currently putting together a training program for the fall 2016, to train our "Caretakers" in the community. An organizing to begin to fully address these problems from a local, community-centered perspective. We will "commission" 25-30 "Caretakers" this year. In 2016, will implement a policy manual to go along with our creation care statement that will govern both the way we do our work in Atlanta and our regional offices. An will also govern the work we do, all with the intent of enabling us to evaluate our environmental impact and make changes to lessen our impact. To evaluate our various mission programs as to they impact, both positively and negatively. We will also work with the other units of Global Ministries, especially Global Health and UMCOR, to enable them to more effectively incorporate care for God's creation into the overall mission of the church. We will continue conversations with our Environmental Scholars and our Global Mission Fellows to engage them in projects that meet the needs of creation.
Describe the primary goal of the project
To raise the awareness of Methodists as to the relationship between Christian discipleship and the care of God's creation. And then to proved various tools by which our churches and organizations can live out their faith, given that connection.
Describe the change you would like to see in the community as a result of this Advance project
I would like to see a change in our theological understanding and a change in how we collectively live in relationship with each other and with God's creation. I want to see a larger commitment upon the part of the nations of the world. To ramp up their ambitions that they agreed upon in Paris at the climate change talks there. I want to see the church leading the way in a commitment to care for God's creation.
Contact Information
Global Ministries Contact