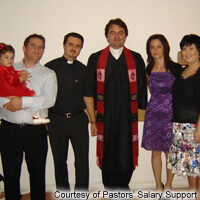 Project Information
Supplementing pastors' salaries to increase the number of pastors and improve living conditions
Annual Goal: $20,000.00
Year to Date Gifts: $22.00
Describe the need affecting community
Due to difficulties in terms of finances, the conference has been challenged to pay salaries for its pastors, mostly those appointed in rural areas where the need for establishing new churches is huge. So, it has been a great challenge to have pastors appointed if money is not available. The situation in Angola as seen now as critical in terms of finances, due to the drop in fuel prices, which brought also unemployment. As a self-sustainable church, it depends on the contribution of its members to survive and to implement its many projects, such as the support to pastors and other leaders who serve it in various capacities. Congregations at local level are no longer able to contribute in the ways they used to do due to this situation that the country is facing nowadays. Pastors have been influential in assisting congregations not only in terms of preaching, but also in assisting people in the community. So they remain an important part in the development of the church as such. Projects implemented by the church are supported by the efforts of pastors at the local level as well.
How will this Advance project help to address the need?
By supplying pastors with salaries and making pastors in the rural areas better equipped to help their congregations to better come and understand the needs and challenges of the church.
Describe the primary goal of the project
Assistance in salaries provision for pastors to help them carry out their ministry in the congregations where they are appointed to. Provision of salaries to pastors for them to be able to face challenges not only of the community, but also in terms of personal and family needs, is the primary goal for this project.
Describe the change you would like to see in the community as a result of this Advance project
Motivation, church growth and expansion, accomplishment of personal and family needs of the pastors who are appointed by the Bishop to serve in the districts, especially those in the rural areas.
Contact Information
Global Ministries Contact
Reverend Valdimir Agostinho