Congo Restoration
Congo Restoration
Country:
Congo, (Democratic Republic)
DONATE NOW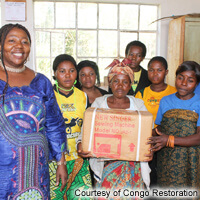 Project Information
Creating sustainable families with income and education for brutalized women and orphaned children.
Describe the need affecting community
DRC currently ranks 186 out of 187 countries on the Human Development Index. The country is often described as the worst place to live as a woman, partly because rape has been used as a weapon because of regional unrest since the genocide in Rwanda and over the vast mineral wealth within Eastern Congo. Women in Bukavu have few options. Culturally, they are not considered worthy of education. Once they have children, oftentimes as a result of rape, they are on the bottom rim of society. Women and girls are used for hard labor. The people who live in Bukavu are without infrastructure because of the war. Women specifically have virtually no opportunity, no education, no future.
How will this Advance project help to address the need?
In the months before our 8 month sewing school program culminates toward graduation, women from around the area start gathering at our building. They are desperate to learn a skill and have something to do. This is why we started offshoot programs to teach women how to style hair and make baskets. We then interview the hundreds of candidates, choosing 40 (up from 30 in past years) to begin our program. We offer these women the opportunity to learn the skill of sewing, empowering them with self-esteem and a hand up to support themselves and their children. After graduation, we help the women start their own businesses, forever changing the trajectory of their lives.
Describe the primary goal of the project
The mission of Congo Restoration is to revitalize the Democratic Republic of Congo, one village at a time, restoring hope and dignity by empowering women and children who have been brutalized by war. By investing deeply in the women and children we work with, we are creating leaders who will change their country from within. We also work toward the slow cultural shift to create respect for women here. For the individual women and children who are in our program, we forever change the trajectory of their lives.
Describe the change you would like to see in the community as a result of this Advance project
• Women in the Bukavu area starting their own businesses to support themselves and their children with their new skills. • Orphaned children growing up in a community of support with the education and confidence they need to attend university and be leaders in their community. • Respect for women growing as they see local women rise above their circumstances to start their own businesses and be community leaders.
Contact Information
Global Ministries Contact
Mrs. Dawn McMullan
2148243265