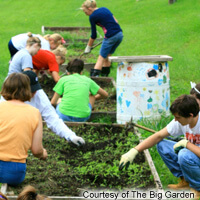 Project Information
Improving nutrition and building community through gardening
Describe the need affecting community
The Big Garden began in 2005, with a focus on growing nutritious food in East Omaha, an urban food desert with a diverse population, many of whom live below the poverty line. In 2009, the Big Garden expanded to include rural communities in Nebraska. In 2011, the Big Garden expanded again to reach into Kansas, and in 2013, we expanded our reach across jurisdictional boundaries into Iowa. The Big Garden is responsive to a number of community needs, including: 1. Absence of healthy food retailers. 2. Long distances between residents and sources of fresh food. 3. Health literacy needs, including food preparation, basic nutrition information, and exposure to healthy foods, recipes, and cooking resources. 4. Self-determination and capacity building in neighborhoods. 5. Lack of fresh and nutritious foods at local food pantries. 6. Absence of local fresh food sources.
How will this Advance project help to address the need?
Through The Big Garden's mission, which is to cultivate food security by developing community gardens, creating opportunities to serve, and providing education on issues related to hunger, we are doing many different things to address these needs. Not only are we providing the space and tools necessary for people to grow in a truly sustainable way, but we are providing the education necessary to make sure that each garden is self-sustaining. We insure that partners and program participants have the tools they need to not only grow their own food, but to prepare, cook, and preserve it as well. In the Omaha area, we have opportunities for youth beginning in early childhood in childcare centers and extending all the way through early adulthood for them to engage with and learn about growing, cooking, and preserving their own food. Participants also have the opportunity to learn valuable entrepreneurial skills and insights so that they can take their skills and turn them into an economic engine. Our goal is to provide opportunities near where participants live and work that can serve to address the needs listed above by providing a local source of healthy and fresh food, along with the necessary training to make sure that participants are health literate and can achieve better nutritional outcomes.
Describe the primary goal of the project
The primary goal of this program is to improve food security through the development of community gardens, educational offerings, and opportunities to serve. The long term impact our project hopes to achieve is changing the way that the food system works in our service areas, by helping individuals to not only be knowledgeable food consumers, but also knowledgeable food producers.
Describe the change you would like to see in the community as a result of this Advance project
We are already seeing more access to fresh produce in food insecure neighborhoods of Omaha through the work we are doing, but there is much more to do to make healthy foods readily available to everyone. We know that children's eating habits are often set by age 6. We provide fresh produce weekly at each of our summer programming sites in order to introduce children as young as age 2 to how delicious healthy produce can taste. We know that hunger is interrelated with poverty and racism. Through our VIM program we hope to develop a generation of United Methodists who understand how these issues are related and are well equipped to advocate for policies that will improve the lives of those in need.
Contact Information
Global Ministries Contact