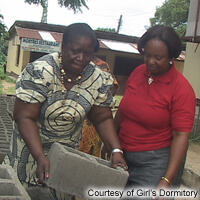 Project Information
Providing a dormitory to accommodate vulnerable women enrolled in vocational training in Monrovia.
Describe the need affecting community
The establishment of the girls dormitory will offer rural women the opportunity to acquire basic skills and help to build their capacity for economic independence and self-reliance. But this objective can only be achieved by completing the girls dormitory project which will provide affordable accommodation for women trainee who come from the rural areas to pursue training in Monrovia.This will help to ease the accommodation problems faced by rural women to stay in Monrovia. This project will further support the girls trainee to enhance their capacities and not to contract unnecessary relationships that will land them into unwanted pregnancies and premature motherhood resulting in abandonment of the young girls. In order to attract the women training center in Monrovia, it will be prudent to complete the girls dormitory which has been under construction for the last five years. The construction is now at its completion stage.
How will this Advance project help to address the need?
It will provide affordable accommodation for the women who come from the rural areas and have no place to stay in Monrovia. It will also help the trainees concentrate on their training.
Describe the primary goal of the project
The primary goal of the project is to ease accommodation constraints faced by rural women in training or hoping to undertake skills training in Monrovia. It is strongly hoped that graduate women from the Women Training Center will largely be engaged in some form of economic activity which will be contributing to the economic growth, and development of Liberia as a whole.
Describe the change you would like to see in the community as a result of this Advance project
1. Attract more rural women to acquire the training at the center. 2. Increase student intake per year. 3. Provide affordable accommodation for rural women to WLTC. 4. Improve concentration of women in training at the WLTC. 5 Expand possibility for more vocation to be available for WLTC.
Contact Information
Global Ministries Contact
Missionary