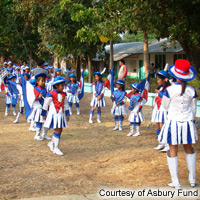 Project Information
Providing scholarships for elementary, high school and college students.
Describe the need affecting community
Asbury College is the only Methodist and Protestant college in the Province of Pangasinan. Since its establishment in 1947, by an American Methodist missionary, Asbury continue to be a place where young people, specially the poor, could get the best quality and affordable education in a Christian environment. All through the years, the school has helped hundreds of students receive the education they deserve through financial aids or scholarship programs, which were supported by The Advance. Since majority of the population of the town of Anda (where Asbury is located) lives in poverty, most families are unable to send their children to school. Moreover, per recent report of the local Division of Social Welfare Department of Anda (DSWD), the number of single parent families in Anda has grown at an alarming rate, and that incest and rape has also been on the rise. There is a large population of students at Asbury who come from these families.
How will this Advance project help to address the need?
One of Asbury's mission is to be a place where young people's lives are molded, transformed and empowered through education in a Christian environment. As a Christian institution, Asbury College firmly believes that through education, students and recipients of scholarships will be molded and transformed into living their Christian faith, beliefs and values, and be empowered to bring positive change in their personal lives as well as in their families, become instruments of breaking the cycle of poverty, abuse and broken relationships (in their families), and thereby become better and productive citizens of their communities. To further accomplish this mission, Asbury offers Christian education classes/courses, which are required for graduation. Through the Campus Ministry, the school offers weekly convocations for students, faculty and staff, and different activities like the Christian Emphasis Week Celebration, Bible study and prayer groups.
Describe the primary goal of the project
1. To provide scholarship/financial aid to indigent but deserving students that they might receive education in a Christian environment, which will mold, transform and empower them to bring spiritual, social and economic change in their lives, in their families and in their communities. 2. To build new classrooms in order to address and solve the on-going problem of needing sufficient spaces and facilities to the growing student population at Asbury. This will help Asbury to continue to offer the best quality and yet affordable education to our students.
Describe the change you would like to see in the community as a result of this Advance project
As mentioned above, the ongoing prevalence of poverty among majority of families in Anda, with the growing numbers of single-parent families as one contributing factor. Majority of our students at Asbury are from these families. We are confident that by offering financial aid to our poor but deserving students and by providing sufficient educational facilities (new classrooms) for our growing student population, Asbury will continue to be an agent in bringing economic, social change and spiritual formation in the lives of the people of Anda. The fact that majority of our faculty and staff are graduates of Asbury, many of whom were recipients of The Advance Project scholarship fund, is a living testimony that Asbury has become, and will continue to be, an agent of bringing positive transformation in the lives of these young people and their families.
Contact Information
Global Ministries Contact