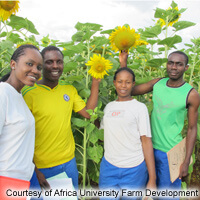 Project Information
Developing Africa University's farm to improve instruction for agriculture students and area farmers.
Describe the need affecting community
Most Agriculture students come to Africa University needing to gain hands-on experience in crops and livestock, both in their production and in finance. Agriculture students and staff also need facilities for research. The AU Dining hall needs a reliable and reasonably priced source of foodstuffs to feed staff and students. The present macro-environment in Zimbabwe makes farming very economically challenging, so it is difficult to make sufficient profits to buy new equipment, replace old equipment and initiate new projects. Also, with global warming, there has been an increased need for more and more efficient water resources for irrigation.
How will this Advance project help to address the need?
The Farm Development Fund helps to improve the infrastructure to increase efficiency and meet local environmental regulations. It also brings in better equipment for more efficient use of labor, and to help students become familiar with modern equipment.
Describe the primary goal of the project
The primary goals of the AU Farm are to: 1. Provide facilities for Agricultural teaching and research by the AU Faculty of Agriculture and Natural Resources. 2. Provide safe, reliable, and reasonably priced food for the AU Community, including the campus dining hall which serves staff and students. 3. Generate income for AU.
Describe the change you would like to see in the community as a result of this Advance project
I would like to see highly-skilled and competent agriculturists who has graduated, and makes significant contributions to the development of their homes, both here in Zimbabwe and in the many countries represented here at AU. I would also like to see AU as a leader in the agriculture community here, meeting and exceeding local production standards so that area farmers feel that they can come to AU to learn the most appropriate agricultural management techniques.
Contact Information
Global Ministries Contact