Susannah Wesley Education and Healthcare Center, Morogoro
DONATE NOW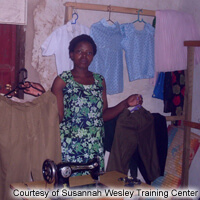 Project Information
Training women in skills and educating children, enabling the women to be self-sufficient.
Describe the need affecting community
Any one needs to have a good life. Many women can't get job and live in good condition because they are not educated. Some children can't go to school because they have no one to support them. Because the parents are poor or have died. They are struggling to survive. Some families don't encourage their daughters to go to school. Some girls are living their own life just to survive.
How will this Advance project help to address the need?
We have a center where a disadvantage women can get a skill training and be self sufficient. Each week organize two training courses. We will give them equipment, such as sewing machines, to help them to start their own business. We have a center where a vulnerable children can get scholarship and have hope to go to school. Each year new vulnerable children joins the sponsor program.
Describe the primary goal of the project
-To empower disadvantage and oppressed women and young girls to be economically independent. – To assist vulnerable children to go school.
Describe the change you would like to see in the community as a result of this Advance project
– In the community, there will be many self sufficient women and girls. – Many hopeless and vulnerable children will attend school. – Many families will live with good health conditions.
Contact Information
Global Ministries Contact
Ngoy Kalangwa
255784334101
Missionary