Ministry with Roma People in Central and Southern Europe
Country:
Europe and Eurasia Regional
DONATE NOW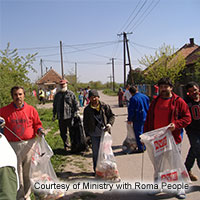 Project Information
Supporting various ministries, including spiritual growth, education, self-support and integration.
Describe the need affecting community
There are various local Roma communities profiting from these grants. Roma are often at the margins of society, and many are very poor. Many people miss structures in their lives. There are different kinds of discrimination going on, usually people lack the opportunities to find work, and at the same time, politics are made against them. People are expelled from their illegally built homes, with no chance to get legal status for their houses etc.
How will this Advance project help to address the need?
People have changed, and in our work can be trusted. The people in our neighborhoods often realize those changes, and also on the local level trust has been built. Trust is the essential means, which will be able to improve the other's situations. Even the national governments have realized that with the long-term work there are fundamental changes in the lives of Roma people. So in some countries they started to work with our churches, especially when talking about Roma.
Describe the primary goal of the project
To change people's lives in a holistic way, spiritual, social integration, living conditions etc.
Describe the change you would like to see in the community as a result of this Advance project
More trust within the local church, but also with its neighbors.
Contact Information
Global Ministries Contact