Central Congo Resource Center
Country:
Congo, (Democratic Republic)
DONATE NOW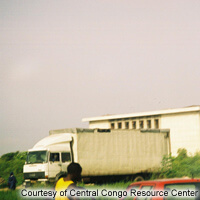 Project Information
Building a resource center to be used for training sessions, meetings, events and activities.
Describe the need affecting community
The Central Congo Episcopal Area covers a geographical area equal to that of the US east of the Mississippi without Florida or New England. The Capital City of Kinshasa is the major arrival, and departure for international travel as well as the central area of commerce and business. The United Methodist Church owns a piece of property with a three story building located directly across from the Parliament Building of the Democratic Republic of the Congo. Unless the property is enclosed in an architecturally acceptable fence, and housing an architecturally acceptable building the United Methodist Church will forfeit this property at great expense. Also under construction is a Chapel which would house a United Methodist Church as well as serve as the chapel for the D. R. Congo Parliament. The completed center would provide office space for the United Methodist Church Episcopal Area, training facilities, meeting facilities, worship facilities and storage facilities.
How will this Advance project help to address the need?
The construction of the perimeter fence will allow the United Methodist Church to maintain this strategically located property for leadership development. It is a location that could have implication for General Church agencies and other international groups wanted to provide training and resources for the DRC.
Describe the primary goal of the project
The goal of this project is to complete the building and grounds work within the next two years. The enclosure enable the development of facilities to support the vision of the Resource Center.
Describe the change you would like to see in the community as a result of this Advance project
This property and Resource Center facility would significantly enhance education and leadership development for the community and the United Methodist Church in Congo.
Contact Information
Global Ministries Contact