Shungu Clinic
Country:
Congo, (Democratic Republic)
DONATE NOW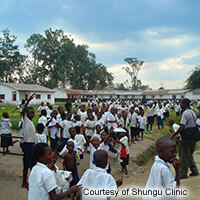 Project Information
Assisting people to access healthcare at a clinic in Kamina
Describe the need affecting community
-Equipping the clinic with medical, medical equipment, wheelchairs. -Supplying essential medicines and in sufficient quantity, clinic. -Increase the capacity (city of motherhood and a pavilion of Pediatrics). -Payment of the salaries of the staff.
How will this Advance project help to address the need?
This project will reach its needs by: -Community participation. -l' support of the partners and the Government.
Describe the primary goal of the project
The main goal of this project is the reduction of morbidity and mortality of the population of Kamina and its surroundings.
Describe the change you would like to see in the community as a result of this Advance project
-Accessibility of the population to quality of care. -Reduction of morbidity and mortality, especially pregnant women and children less than 5 years.
Contact Information