Feeding of Homebound Elderly and Training Caregivers
DONATE NOW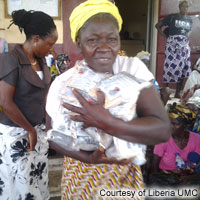 Project Information
Providing basic care services to 500 elderly people.
Describe the need affecting community
The needs and constraints affecting the community are numerous. Those needs affecting the community include healthcare, food, shelter, clothing; but health is one of our major concerns. People die of diseases that could have been prevented. There is no medical insurance; some of the old were petite farmers when they were young. They did not have bank account because the money they earned was not enough even to feed them and their families. As the result of extreme poverty and mounting challenges that stand in the way of meeting the urgent needs of the Aging population in Liberia, many old people, who could live longer, end up yielding to difficulties, hunger, health complications and other vulnerable circumstances forced on them.
How will this Advance project help to address the need?
The president of Liberia signed a proclamation in 2015, declaring October 1st every year as Older Month, where old people are appreciated and honor for their valuable services. We have plan April 7th, as older Adult month, where our people will be screened for diabetes. How will your project help to address this need? The project will help train more caregivers how to be efficient and effective in caring for the elderly and making them aware of the needs of the elderly such as spiritual, physical, etc. The other methods will be to use the media, talk show addressing the needs of the people. Encourage people to take care of the elderly conduct workshop for lectures to speak on issues affecting the elderly. Work with human rights monitors to speak on the right of the elderly.
Describe the primary goal of the project
Our goals are: 1. To give hope to our clients to know God loves them and God's grace is sufficient to take care of them (to depend on God). 2. Make them to stop begging. 3. Make them stop thinking negatively about themselves. 4. Let them know that they can still make it despite of poverty. 5. Those that able and still have strength to empower them to sustain us through petite business like local soap making, selling charcoal, etc. The long term impact of the project hopes to achieve is that in the future, there should be medical clinic, food bank, senior citizens home in all our districts, made with local materials where our senior that cannot come to Monrovia will be and well cared for. That there will be transportation department to transport seniors to hospital rather than putting them on motorbikes or in wheel barrows. That people will be encouraged to be conscious about the plight of the people. The project wants to empower and bring back those who are lost because suffering to bring them back in the fold letting them to know that we love and appreciate them who they are. To work with them to receive identity and integrity knowing that they are still needed. Use as oral historians, teachers advisors etc. we are building on foundation they laid.
Describe the change you would like to see in the community as a result of this Advance project
Some of the changes I want to see as the result of my project are as followed but not limited to: 1. Good living condition 2. People are not dying from preventable diseases. 3. Clients are not in the streets, begging. 4. Rights of the elderly are well respected. 5. Some of their needs are met 6. Suicide will not be thought about. 7. They know God personally for themselves.
Contact Information
Global Ministries Contact