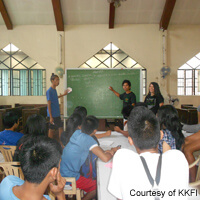 Project Information
Providing temporary shelter, education and skills training for women, children, and youth.
Describe the need affecting community
The State of Philippine Education & Employment In the Philippines having a good quality education has always been considered as an opportunity to a better quality of life. It's an equalizing instrument between the rich and the poor. Like any other developing nation-state, the Philippines have various issues and challenges on the existing educational system. Various studies on the current student dropout rates in 2012 show that of the 10 pupils entering grade 1, 66% would eventually finish grade six; 43% would graduate high school; and only 20% would successfully finish college. Thus, we are talking about 80% of the at least 55 million school-aged Filipino being considered uneducated, drop out or unemployed. This means more than half of the Filipino people can't fully access the right to education. One of the major reason for this is poverty. In order to fully understand the context of education in the Philippines, KKFI Program Director Rex Dayao opted to teach in a public school for twenty four months, as one of the fellows of Teach for the Philippines, a network partner of Teach for America and Teach for All. He discovered the following disconnect on why students are not able to finish schooling; 1. Poor facilities and limited resources in schools resulting to classroom congestion. 2. Malnutrition among early graders resulting to drop outs or death among learners 3. Lack of appreciation in education due to unemployment of parents, who, in the same manner were not able to finish school. 4. Poverty which force learners to be engaged in child labor or income generating endeavor. 5. Lack of financial aid among learners for school needs.
How will this Advance project help to address the need?
4S or Save Some to Send Someone to School/College and Training for Employment is part of the Education and Employment project of KKFI for Advance. It aims to assist children to thrive in schooling and for out of school youth to acquire the necessary skills to have jobs. Save Some to Send Someone to School will be able to support the schooling of 75 elementary, high school and college students. All of them have struggles in finances and their family cannot sustain their education. KKFI will serve as their vehicle, with the aid of sponsors all over the globe to support their need while they fulfill their dreams.
Describe the primary goal of the project
Provide educational assistance to 75 school aged children and youth.
Describe the change you would like to see in the community as a result of this Advance project
KKFI scholars to move up from their respective levels and become young leaders advocating for change in their respective communities.
Contact Information
Global Ministries Contact