Agricultural Development Program Nigeria Episcopal Area
DONATE NOW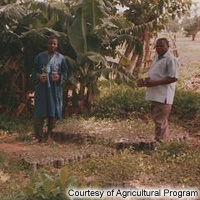 Project Information
Producing tree seedling, livestock, and crops.
Describe the need affecting community
There is a need for Afforestation because of desert encroachment, cultivation of crops for food security.
How will this Advance project help to address the need?
If funds are made available, there will be the continuation of the micro – Agricultural loan and the raising of assorted number of tree seedlings.
Describe the primary goal of the project
To empower and provide 200 youths and women with micro – agricultural loan. To reeduced the deforestation within the Communities through education, nursery management, tree planting and raising of 10,000 assorted tree seedlings every year. To 1prove techniques in food proccessing avaible to 150 youth groups within the four years period. To increase the proten intake level among 200 identified youths and women every year. To reduce high rate of infant and maternal motality as a result of malaria and malnutrition by using A3 herbs and Moringa leaves powder. To provide an alternative means of lifehood among the youth to aleviate dependency syndrome among the youths and women. To provide a balance diet among its citizens.
Describe the change you would like to see in the community as a result of this Advance project
The identified youths and women groups would be registered with the program for termly supervision. There would be evaluation of the beneficiaries by the program at each quarter of the year.
Contact Information
Global Ministries Contact