African American Methodist Heritage Center (AAMHC)
DONATE NOW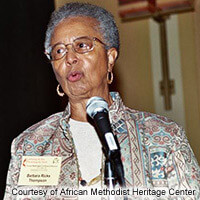 Project Information
Preserving, protecting and promoting the history and stories of African Americans in the UMC.
Describe the need affecting community
Communication with the entire church about the contributions of African Americans to the denomination. The story of Caucasian members is well told and documented throughout the UM Church but the history of African Americans is fragmented, not well documented or accessible in one place.
How will this Advance project help to address the need?
We are positioned as the organization who preserves, protects and promotes the stories of African Americans in the United Methodist Church. We are encouraging all of our churches to write their histories and send to us.
Describe the primary goal of the project
Preserve, protect and promote the history of African Americans in the United Methodist Church. Long term impact will be that stories, sermons, journals, other historical documents will housed, cataloged and recorded and made available to individuals seeking information on their families or more information about the founding of their respective churches. Another goal is to provide information to scholars in the USA and abroad seeking materials to complete their studies.
Describe the change you would like to see in the community as a result of this Advance project
More understaning of vital role African Americans played in the establishment of the church, may lead to more cross cultural exchanges/memberships on an ongoing basis.
Contact Information
Global Ministries Contact