Workteam Coordination and Mission Promotion
DONATE NOW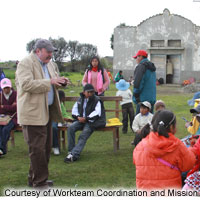 Project Information
Coordinating VIM teams, developing mission opportunities, promote projects, and connecting churches.
Describe the need affecting community
The Iglesia Evangelica Metodista en Bolivia (IEMB) does not have enough resources to reach, serve and share its ministry. And, it's because of this, that we have been receiving Volunteers Teams (VIM Teams) from the US that come to Bolivia. To support the IEMB with economic resources, and to share their faith with their Bolivian brothers and sisters. The relationship that develops between the Bolivian Church and the solidarity that the teams provide is very important to us. The sharing of faith and culture, the knowledge that we are truly one in the universal body of Christ, as well as our mutual prayers, strengthen us both.
How will this Advance project help to address the need?
The promotions office is the only who recruits and provides logistics for VIM teams. And, also it is the only one tasked with raising funds for IEMB projects. This Advance project raises funds for all of the other IEMB Advance projects.
Describe the primary goal of the project
Improve and increase the IEMB ministries in order to reach to more people on behalf of Christ.
Describe the change you would like to see in the community as a result of this Advance project
Increase funding for a variaty of IEMB projects and increased VIM teams to help with construction, medical services, and other ways.
Contact Information
Global Ministries Contact