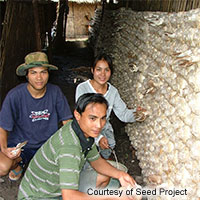 Project Information
Offering loans to women to start small businesses
Annual Goal: $10,000.00
Year to Date Gifts: $6,072.00
Describe the need affecting community
Many of our members are poor. They lack funding to support their basic needs to have decent food, housing, clothing and education. Many lacks skills. They need help and support in funding their livelihood – such as farming, fishing, small-scale businesses (buy and sell, weaving, sewing, etc.). Many women just stayed home, or help in the farm without earning extra income. We can empower them by providing access to the fund and earn some income. Additional fund means additional produce and income. Additional income means better food, being able to buy basic needs, and enabling them to send their children or themselves to school for better education and skills. Thus, it helps lead to a the well-being of a woman and a family, including the church and society.
How will this Advance project help to address the need?
Our project would help our members particularly our women to be able to be productive and help find income for the family; this could raise their living standard by being able to buy additional food and clothing, and help children go to school.
Describe the primary goal of the project
The primary goal of the Seed Project program is to help the members improve their well-being and/or have a better living by providing them micro-loan as seed money to finance their livelihood projects for increased productivity and income. To promote self-sufficiency among the women, their families and the church.
Describe the change you would like to see in the community as a result of this Advance project
I would like to see more empowered women as they manage their own business, better living in their family, better giving practices in the church, and decent means of living and productive members in the society.
Contact Information