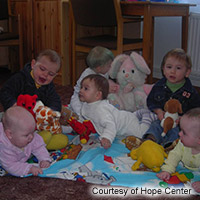 Project Information
Offering mothers a loving home atmosphere where they can prepare for the birth of their child
Describe the need affecting community
The social services budget in Latvia is very low, and can not provide for everyone economically challenged citizens. Young single mothers looking for help can have the best hope for a 3 months stay at a crisis center. There she is provided with food and shelter. The young mothers need an opportunity to experience family like atmosphere, need time to bond with their newborns, as well as learn living skills to help prepare for an independent life. They also need a place that will encourage and help them return to school in order to graduate, and have better prospects for their future.
How will this Advance project help to address the need?
The Hope Center addresses the specific need of not only shelter and food for both mother and child but also how to prepare the young women for responsible independent living.
Describe the primary goal of the project
The long term goal is to help break the chains of dysfunctional family life in Latvia, as well as caring for "the least". All mothers have suffered mental, physical and social abuse. None have grown up in a "normal" loving family. They have no one to trust or to rely on for help. The goal is also to provide a safe, healthy environment for the child's crucial first years.
Describe the change you would like to see in the community as a result of this Advance project
A better attitude towards young single mothers. A growing awareness that these young mothers can be a good presence in their midst and a growing desire to reach out and help them instead of assuming they are all "loose" girls to be condemned.
Contact Information
Global Ministries Contact
Jeanie Reimer
920-851-5485