Nutrition Project for Urban Communities
DONATE NOW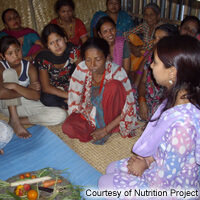 Project Information
Improving the health of women & children in marginalized urban communities with better nutrition
Describe the need affecting community
For decades Nepal has struggled with high rates of malnutrition amongst women and children, at times reaching levels of 50% of under-5 children suffering from chronic malnutrition (stunting). In this period there has also been significant growth of urban populations, with the most vulnerable communities including those migrating for reasons of employment and security from rural areas into informal settlements (slums) and multi-family inner-city housing (tenement-style conditions). These communities suffer from poverty, food insecurity, social disruption, and lack of basic facilities/services so that their women, and children are particularly at nutrition risk compared to the original local urban dwellers.
How will this Advance project help to address the need?
NPCS has a long history of conducting community-level projects that improve the nutrition status of women and children through education, awareness-raising and behavior-change activities. These include training for women's and other community groups, community-wide nutrition events and celebrations, regular growth monitoring for under-5 children, and follow up of malnourished children and pregnant/newly-delivered women. NPCS believes that equipping mothers, and communities as a whole, with the knowledge of how to best care nutritionally for themselves and their children, using the resources available to them locally, enables them to secure a better future. NPCS selects communities to work with for a period of 3-4 years, which ensures that new knowledge and awareness can be solidified and applied to behavior. NPCS also creates a cadre of local nutrition volunteers to maximize efficiency and effectiveness, and also create a local resource that remains after the project has been closed.
Describe the primary goal of the project
To reduce child malnutrition and improve the nutrition status of women in disadvantaged urban communities by raising knowledge, attitude, and positive practices in nutrition through training and awareness-raising at the community level.
Describe the change you would like to see in the community as a result of this Advance project
1. To reduce child malnutrition (under -2 yrs ). 2. To improve nutrition-related knowledge, attitude and practices from baseline among mothers, community volunteers and other community leaders/stakeholders (eg. teachers, slum committee members, etc.).
Contact Information
Global Ministries Contact
Deirdre Zimmerman
Mrs. Samita Kila