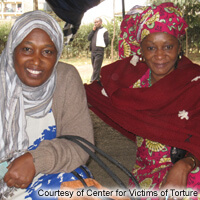 Project Information
Rebuilding the lives and restoring the hope of survivors of torture through holistic healing care worldwide.
Annual Goal: $5,000.00
Year to Date Gifts: $850.00
Describe the need affecting community
In the United States, torture is often misrepresented as an effective means of gathering intelligence from terrorist or criminals. In reality, it is most often employed by repressive governments and paramilitary forces to instill fear and thereby gain control over an entire population. Torture is a global injustice that affects hundreds of thousands of people around the world every year. It is an egregious human rights violation that destroys a person's sense of self and strips them of their inherent dignity as human beings. Survivors of torture endure physical and psychological wounds such as chronic pain from being hung or confined to small spaces, balance and mobility problems from being beaten, severe anxiety, deep depression, a range of Post-Traumatic Stress Disorder symptoms, and frequent thoughts of suicide. Based on what our clients have told us over 30 years, it is almost always psychological torture which is most difficult to overcome and damaging to the human spirit (such as being forced to watch other people being tortured, including family members). For many survivors, the physical and psychological effects of torture have left them unable to fully participate in family and community life.
How will this Advance project help to address the need?
Domestically, we developed a holistic model of care that heals the wounds of torture by using: mental health therapy to heal the mind, medical care coordination to rebuild the body, and case management to ensure access to community resources such as housing, food, security, and legal services. Each client is paired with a healing team which starts with a psychotherapist and social worker. Together, the healing team collaborates with internal and external medical staff, as well as, attorneys and legal providers. CVT therapists help clients understand their trauma and develop trust with those around them and become active community members. Social workers provide case management, which helps clients satisfy their daily needs and live a meaningful life. This includes food, clothing, housing, transportation, and safety. After a client's basic needs are met, social workers will then start helping clients regain their community. The average duration of treatment is 18 months. In practice, as clients recover they become busier and their focus shifts to things like working, saving money for their families, or attending school, productive activities which further aid them in healing.
Describe the primary goal of the project
The goal of CVT is to heal the wounds of torture, and to end torture worldwide. Across the world from Ethiopia to Minnesota, CVT walks with survivors of torture to empower and relieve their mental and physical suffering. Our healing services help heal those who have suffered immense injustice and have been targeted for what they believe, or simply for who they are. CVT works to help survivors know injustice does not define their life.
Describe the change you would like to see in the community as a result of this Advance project
CVT serves a highly underserved, disenfranchised population that largely exists under the radar of most mental health, health care, and social service agencies due to their extreme fright and distrust towards institutions and government agencies. All of CVT's clients are refugees or asylum seekers who are living at or below the poverty line. Due to their torture, immigration, and mental health status most of CVT clients struggle accessing community services and support systems. Before coming to CVT, many clients struggle to find work, housing, education, navigate transportation, and provide for their families. Through CVT, clients are able to regain a sense of self, begin to trust others, and once again have hope for the future. CVT therapists and social workers are instrumental in working for social change in our community. Our therapists work with clients to help them understand their trauma, teach them to calm or soothe themselves with anxiety management strategies, and help clients develop trust again with those around them. When the basic needs of clients are being met through our social workers, clients are able to heal and spend more time on activities that help move them out of poverty, such as giving back to their community, finding employment, continuing their education, learning English, or joining a place of worship.
Contact Information