Scholarships for Elementary, Secondary, College & Seminary Education
DONATE NOW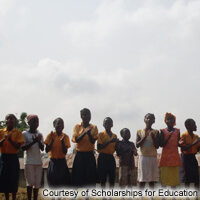 Project Information
Providing scholarships for active members of United Methodist Churches.
Describe the need affecting community
High rate of poverty in Liberia is an epidemic that Liberia is trying to reduce. An average Liberian lives on less than a dollar a day. This makes it challenging for many children to go to school. In some homes, the children are bread winners. Some of them even live by themselves without support. As a result, there is a high rate of prostitution, teenage pregnancy, gambling, and armed-robbery in Liberia. Many drop out from school because they are unable to feed themselves, and at the same time pay school fees. This needs to be addressed by the church if the church must impact the lives of the people of Liberia.
How will this Advance project help to address the need?
While it is true that the provision of scholarship in Liberia is a huge and challenging project, The United Methodist Church of Liberia will seek funding both locally and abroad to provide scholarships for those in need. The project will identify such people within the United Methodist local congregations through local scholarship committees. A total of 500 scholarships will be awarded to the following categories of students. The total of 25 seminary students will be recruited for scholarships to address the challenge of church leadership. 75 college students will be given scholarships to equip them with marketable skills in an effort to reduce the unemployment rate in Liberia. 200 junior and secondary students will be recruited for scholarships. 200 elementary students will be provided scholarships.
Describe the primary goal of the project
The primary goal for this project is to provide scholarship funding yearly for 500 students who are unable to underwrite the cost of their own education. Going to school in Liberia is an expensive venture. Despite the introduction of free primary, elementary and junior high education by the government of Liberia, many students are unable to go to school because they cannot afford the very minimum requirements for registration, uniforms and transportation. Worst of all, some of them don't live close to where the government schools are, but closer to the private and mission schools that are ran by fees. As a result, many Liberian youth who cannot afford fees charged in private institutions. Not even the very minimum government schools fees, and so they are left roaming around in the streets. Some of them are petty traders, while some are notorious gangster and armed robbers. Furthermore, the majority of our high school graduates are unable to enroll in universities due to the financial expenses involved. There is a massive number of high school and college drop-outs each year due to the lack of funding. One of the ways to respond is to give out scholarships to deserving students. This will have a long term impact on the future of the country of Liberia, and the church of Liberia. Future leaders will be produced, our young people will have marketable skills to feed themselves and, their families. As well as help those in need. The crime rate in Liberia will reduce.
Describe the change you would like to see in the community as a result of this Advance project
Young people are advocating for youth empowerment and generational change. I believe such empowerment and change will never be a reality if young scholars are not given the opportunity to excel in their educational sojourn. When young people are given the opportunity through scholarships, they will acquire marketable skills for the job market. As a result, the today's generation will be confident of being succeeded by tomorrow's generation.
Contact Information
Global Ministries Contact
Missionary