Tanzania Women Development, Orphans and Vulnerable Children Schools
DONATE NOW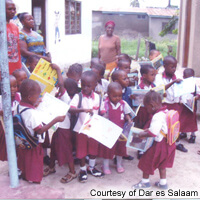 Project Information
Training and assisting women, orphans and vulnerable children for UMC growth and their lives
Describe the need affecting community
The needs effecting the community is the physical, spiritual knowledge, and care, which are all the products of poverty in the community. Women, girls, and children needs skills, education, and care. All together they need freedom, kingdom and justice. The Tanzania Provisional Conference is trying to strengthen the church structure by organizing church groups. So the women groups can be organized at the local district and conference level.
How will this Advance project help to address the need?
To address this need, our project will help to train women and girls, train children and take care of those who are vulnerable by providing some physical, spiritual and material assistance. For the women's group, would like to have seminars and meetings in all levels from local up to the conference level.
Describe the primary goal of the project
The primary goal of this project is to train women and children, and assist them to have better lives, and to know Jesus. Women and children must know how to read and write and be able to do some works for self-income, and the children to continuing to have good education so that they can play a good role in the society as others.
Describe the change you would like to see in the community as a result of this Advance project
We want to see our community changing mentally, physically, and spiritually. The results of our project that we want to see is for women and children knowing how to read and write. Children going so far with their education, and getting their university papers, then coming back to serve the community. Others, women knowing skills like crafts, cooking, housekeeping, meeting with other women and talking about the growth of the church. Also assisting those who are suffering from being sick and people living in poverty.
Contact Information
Global Ministries Contact
Kabaka Alphonse
(075) 469-6627
Missionary
Mutwale Ntambo Wa Mushidi