Cienaguita Ngobe Community Health Project
DONATE NOW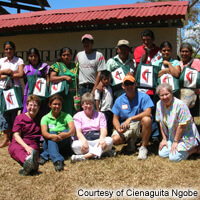 Project Information
Promoting health, literacy, economic, cultural and community development and empowerment.
Describe the need affecting community
The indigenous people are the poorest of the poor in Panama. Statistics indicating their poor quality of life contrast sharply with statistics of Panama in general. Among other indicators, this population has a higher infant mortality rate, and lower life expectancy and literacy rates.
How will this Advance project help to address the need?
Our project from the beginning has attempted to empower the Ngabe Indigenous People to participate in the solution to their problems. We have found them to be eager partners in this mission.
Describe the primary goal of the project
The Community Health Project attempts to effect change not through simple benevolence but rather through empowerment. We enable members of the community to get involved in efforts that improve their quality of life. The strategy involves organizing and training the women and men of the communities, to promote the health and well-being of their own communities.
Describe the change you would like to see in the community as a result of this Advance project
Better health. Better living conditions. Fewer cavities and lost of teeth! Better educated children.
Contact Information
Global Ministries Contact
Missionary